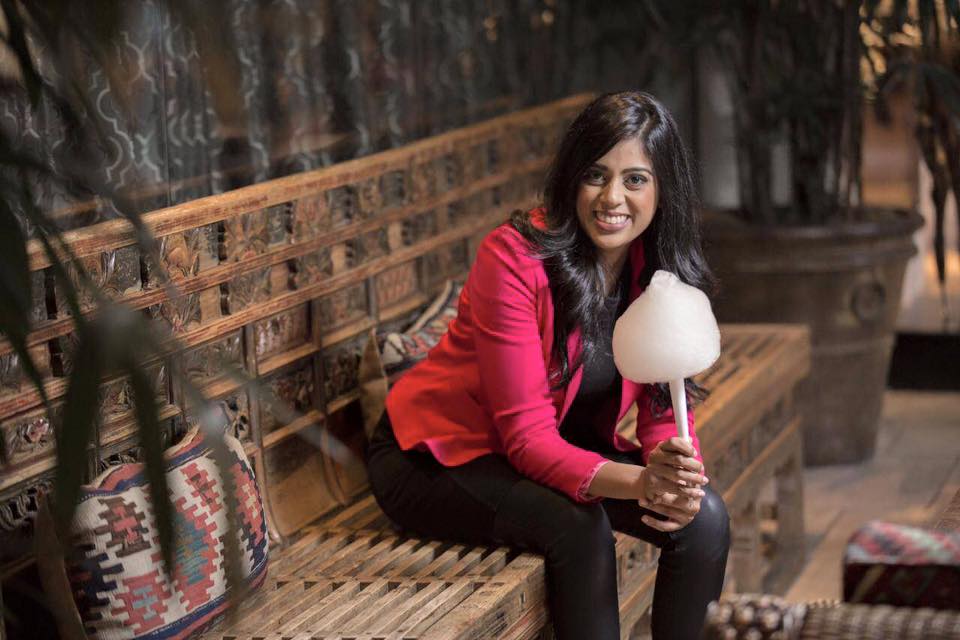 Make Your Life Sweeter® founder Yasmeen Tadia has transformed standard-issue, carnival cotton candy and popcorn into gourmet indulgences with her signature line of sweet sensations, including Fluffpop® Artisanal Mini Cotton Candy, Hotpoppin® Handcrafted Gourmet Popcorn, The Mini Mason™, and her recent creation Sugaire™ All-Natural Gourmet Cotton Candy which launched in Fall 2015.
Visions of fluffy treats and popped sweets weren't always dancing in Tadia's head. As a Southern Methodist University Cox School of Business grad, she spent 10 years in corporate America before inventing Fluffpop. However, her time spent in a variety of management positions, and later as the corporate director of human resources for a large hospitality company based in New York City, did give her the confidence kick she needed to turn her fluffy dream into a serious reality.
Fluffpop Gourmet Mini Cotton Candy is a flavor-packed experience—and a low-calorie, vegan, and gluten-free one at that. The entrepreneurial vision behind the sweet Fluffpop miniature pouf was actually born out of Tadia's desire to provide a healthier candy alternative for her sugar-loving young son, Zain, which also instantly made this single-mom the CEO of fun for her son. Now, she and her team of resident "DJs" spin Fluffpop at countless events across the United States—from red-carpet celebrity soirees to sporting events, posh parties, and private celebrations. Tadia reached a milestone in 2014 when she attained the United States Patent for Mini Cotton Candy Pops (patent number: D712, 116 S).
Popcorn also holds special significance for Tadia, as her love of the snack stems from her childhood in South Africa, where kernels were freshly popped and uniquely flavored for each customer. Wanting Zain to also experience a similarly creative and custom treat in the United States, she launched Hotpoppin, her innovative line of premium, handcrafted gourmet popcorn in 2014. Hotpoppin is popped in small batches and features sweet and savory flavors using only the highest quality of ingredients for a taste that's like no other. Vegan and gluten-free options are also available. Along with chef-driven flavors, the Hotpoppin team specializes in innovative and trendsetting popcorn bars and custom presentations at events, traveling worldwide with their unique creations.
Tadia's most recent addition to the Make Your Life Sweeter® family is Sugaire All-Natural Cotton Candy, which celebrates a similar gourmet twist as Fluffpop but in a traditionally sized cotton candy offering. When traveling globally with her son, she realized that he was still drawn to traditional sized cotton candy, which left her perplexed. Realizing that many people still crave "normal" cotton candy, she wanted to create something that was perceived as the typical childhood favorite, but wanted to use her innovative creativity to make it All-Natural, hand-spun, vegan, and gluten-free.
"Make Your Life Sweeter" is a motto Tadia lives by, endeavoring to make a sweet impact on the lives of others while supporting a variety of charitable initiatives. Ms. Tadia's philanthropic passion has enticed her to create a non-profit organization that will inspire others and also give her son the opportunity of interacting with those less fortunate than him. The non-profit organization called Random Acts of Sweetness® will launch in Winter of 2015 with her #spreadingsweetness campaign.
In addition to her SWEET endeavors of Fluffpop, HotPoppin, The Mini Mason, and Sugaire, Ms. Tadia also runs HR Evolved™, a consulting firm geared towards fueling her passion for human resources and strategic management.
Tadia is currently working on writing her first book and enjoys the opportunity of sharing her experiences through a variety of public speaking platforms. During her spare time, her favorite thing to do is to travel with her son Zain, giving him the opportunity of creating memories through global experiences.